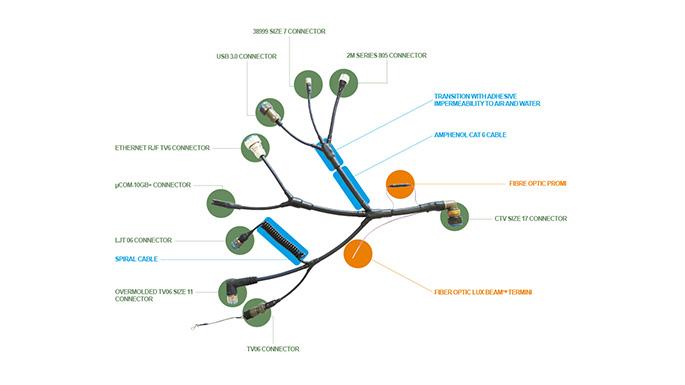 electrical harnesses
Custom electrical harnesses
For the most demanding military & industrial applications, Amphenol SOCAPEX is specialized in manufacturing custom electrical harnesses assemblies.   We have different technologies offering you the best cabling service. 
Amphenol SOCAPEX will help you to design and produce custom electrical harnesses from a set of requirements or customer data packages.
Our offer integrates:
Customized harnesses with Heat Shrink Tube,
Overbraiding Harnesses
Overmolded Electrical Harnesses solutions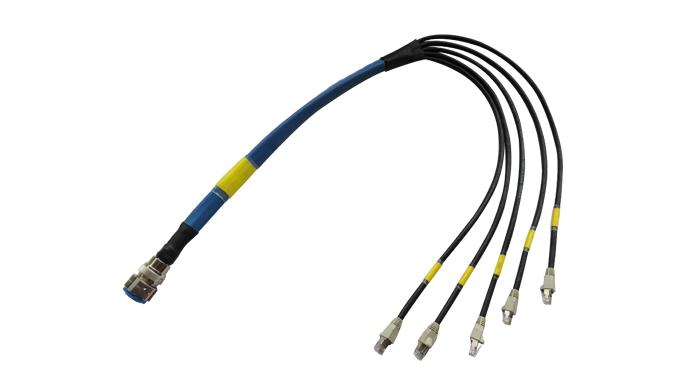 electrical harnesses
Customized harnesses with Heat shrink Tube
Our turnkey solutions include :
•    Connectors terminated with cordsets with specific signals (Ethernet, USB, HDMI,….) with respect to a specified wiring diagram
•    Wiring of power distribution boxes, junction boxes
•    High speed solutions including Quadrax, Octomax, RF contacts, RJF, …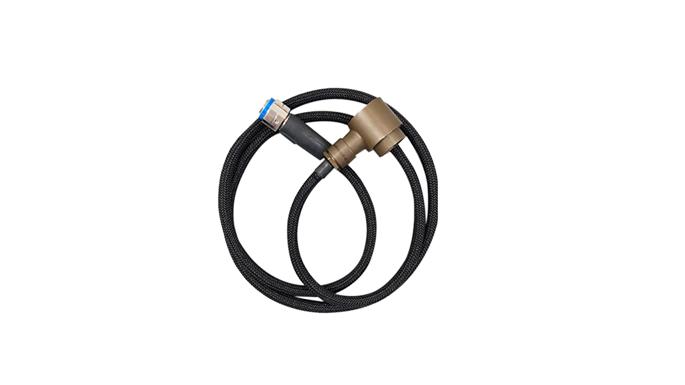 electrical harnesses
Overbraided Electrical Harnesses

Key points
Tin or nickel plated copper & stainless steel metallic braiding.
Vinyl coated nylon , Nomex , Polyester & Kevlar non-metallic braiding.
24 carrier high performance separate machines for metallic & non-metallic braids.
 
Amphenol Socapex overbraiding capabilities
Harness is pulled through the braider vertically by attaching a "turtle" clamp or hook at the beginning of the harness. This clamp or hook is attached on a piece of cord that is suspended from a pulley located directly over the braider. This cord is then wound around the motorised pulley so that when the braider is operating it will pull the harness assembly at an even rate so that the picks per inch braided will be uniform. This method uses a 160mm pulley which is independently driven by an A.C motor and gearbox with an electromechanical clutch located on the side of the machine. The pick rate or coverage is controlled by a potentiometer.
 
Overbraiding technology
Overbraiding technology allows superior screening (EMI/ EMC) of wire bundles with increased optical coverage, much better than with separate tubular braids. This is mainly intended for harnesses for sensitive missile, marine, and battlefield communication applications. In addition, this allows us more reactivity by realizing internally specific cables, for which we suffer long lead time and minimum order quantities from cable suppliers.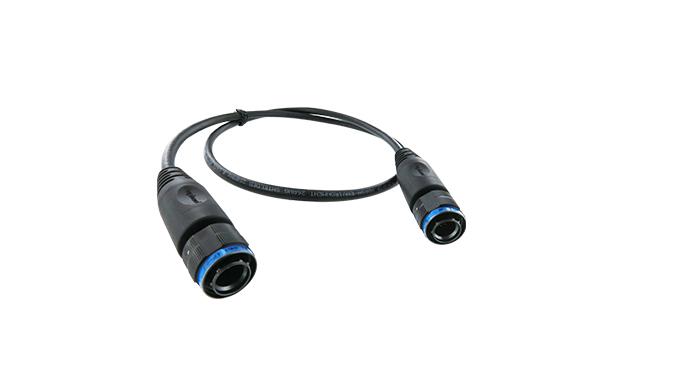 electrical harnesses
Amphenol Overmolded Electrical Harness solutions

Key points
Straight and Right Angle Overmolding for all military connectors shell sizes from 38999 standard
Applications in Ethernet, High Speed, and power supply
Molds designed in-house
Customized overmolding available (particular angle, color,…)
IP67 approved
Halogen free outer jacket and overmolding materials
 
Amphenol Socapex overmolding capabilities

With this technology, we propose numerous connector types, in straight or right angle versions, plug or receptacle. We are tooled up for connectors 38999 Series I, 38999 Series III, 2M, PT-451, and even proprietary connectors from other sources than Amphenol. Our molds are developed and manufactured in-house, in a 8 weeks period. 
If you need a particular configuration, just contact us.
Overmolding technology
Overmolding technology consists in putting the rear side of the connector/backshell together with the cable into a mold to mold a protection around the connector/backshell and the cable. The overmolding replaces the use of a pre-glued heat-shrink molded piece.
This creates a very strong and sealed junction between the connector/backshell and the cable, along with a very clean finish.

CONTACT US
Do you have questions?
Unable to find what you need? Looking for custom design ? Or not sure of what you need? Connect with our team of experts to guide you towards the best solution.