Amhenol Socapex, a renowned manufacturer of power connectors has a rich history of providing high-quality power solutions designed for extreme ruggedness.  The new PS Series (Power Device Solutions) combines Amphenol Socapex know how on Power connectors with Power Conversion Solutions and Power Management solutions meeting the most stringent requirements of military applications.

Meeting the Most Rigorous Military Standards
The PS Series power converters  & Power Distribution units are meticulously designed end-to-end for the toughest of military scenarios, making them the ideal choice for air, ground, and naval applications. In keeping with the company's dedication to quality and compliance, the PS Series equipment follow rigorous military standards, ensuring that these power solutions are capable of withstanding the harshest conditions and demanding performance expectations.
A Wide Range of Power Solutions
Amphenol Socapex has introduced an extensive range of products within the PS Series to cater to diverse power conversion needs. The lineup includes power converters (AC/DC, DC/DC, DC&AC/DC & DC/AC), military uninterruptible power supplies (UPS), GCU (Generator Control Unit) and Power Distribution Units (PDU). These solutions are not only versatile but are also engineered with a keen focus on reliability and performance, making them a preferred choice for military operations.

Power Supplies for Modern Warfare
In the fast-evolving landscape of modern warfare, reliable and stable power sources are paramount. The PS Series offers a wide array of AC/DC, DC/DC, and DC/AC inverters, including VME standards and VITA 62 VPX Power Supplies. 
These solutions are tailored to provide a steady and dependable power source for critical systems and are designed to meet various military standards such as MIL-STD-461, MIL-STD-704, MIL-STD-810, MIL-STD-1275, MIL-STD-1399, RTCA DO-160, and DEF Stan 61-5. By meeting these rigorous standards, the PS Series ensures military operations can thrive even in the most challenging and hostile environments.

Uninterruptible Power Supply for Naval Applications
For naval applications, maintaining continuous power is not just essential; it's mission-critical. Amphenol Socapex's Military Uninterruptible Power Supplies (UPS) fully comply with MIL-STD-1399:300B Type I, STANAG 1008 Ed. 9, MIL-STD-167-1 Type I vibration, and MIL-S-901D, Grade A, Class I and II high-impact shock standards. These UPS units are designed to deliver switchover capabilities and robust surge protection, ensuring uninterrupted power to vital systems.
The redundancy configurations, intelligent battery management, and remote monitoring capabilities of these UPS units allow the navy to sustain its strategic dominance even in the face of power issues. This unparalleled reliability ensures that mission-critical systems onboard naval vessels can operate without interruption, safeguarding national interests.

Power Distribution Unit for Optimal Energy Control
Power Distribution Units (PDUs) from the PS Series offer advanced load balancing, surge protection, and spike protection in accordance with MIL-STD-1275C-E or MIL-STD-704A-F. These units are constructed with expertise, allowing control and diagnostics via CAN bus, RS-485, and Ethernet. By integrating critical systems seamlessly, these PDUs maximize energy use and provide a solid foundation for military operations.
With a voltage range spanning from 28V to 250V, the PDU technologies within the PS Series ensure that power distribution is well-regulated, allowing military operations to maintain control over their power needs in the most challenging conditions.
 
Julien Maurice, Amphenol Socapex Product Manager shares his thoughts "Our portfolio includes Power Connectors & harnesses, you can now add the box in between with the PS Series. Our Power Device solutions are designed for a wide variety of military applications and meet the most demanding military requirements."

By choosing the PS Series, military forces can significantly enhance their operational readiness and resiliency, ensuring they can succeed in even the most extreme and challenging environments. 
With Amphenol Socapex's experience and expertise in the field, these solutions empower armed forces to maintain strategic dominance, uninterrupted power, and optimal energy control.

About Amphenol SOCAPEX
Amphenol Socapex provides and manufactures interconnection systems solutions for the military, security, aerospace and industrial markets. Our products and solutions, designed for rugged and unique situations involving extreme conditions, provide the innovativeness and flexibility essential to meet the needs and requirements of these demanding sectors. 
Amphenol Socapex is part of Amphenol Group.
For more information, check out our website: https://www.amphenol-socapex.com/products/ps-series-power-devices-solutions
Contact Amphenol SOCAPEX
948 promenade Arve BP 29 74300 THYEZ – France
Julien Maurice, Product Manager Julien.maurice@amphenol-socapex.fr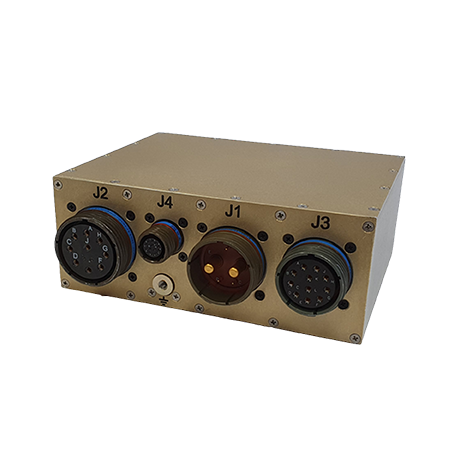 Our related article
Related articles