Key features
Derived from MIL-DTL-38999 series III
More than 25 inserts, including power & signal mix
8 shell sizes from 11 to 25
Equipped with ruggedized power inserts up to 250A 
Several materials et platings available, with RoHS & REACH compliant versions
Applications
Battlefield Communication C5ISR
Ground Vehicles
Military Avionics
Commercial Air 
Navy 
Space
Technical information
Product benefits :
38999 series III inserts 
M329029 type contacts
Many versions available : Integrated backshell, Stand-off (double flange), reduced flange,...
Materials & Platings :
Aluminum : Olive drab Cadmium, Black Zinc Nickel , Nickel, , Tin Zinc plated
Marine Bronze (unplated) 
Composite : Olive drab cadmium, Nickel plated
Stainless Steel : Passivated , Nickel plated
Contacts types & terminations :
More than 25 compatible inserts, including power & signal mix
Power contacts size 8 to 4/0
Crimp, Tapped holes & PC-Tails (gold & tinned versions)
Environmental Characteristics :
500 mating cycles
-65degC to +175degC or 200degC depending on material & plating
From 48 to 500 hours for aluminum & stainless steel, 1000hours for marine bronze & 2000 hours for composite
IPX7 when mated and fully cabled
Electrical characteristics :
Shell to shell conductivity from 1 to 10 mO depending on materials & platings
Shell to shell bottoming, grounding fingers on the plug shell
Insulation resistance @Ambient : 5.103 mO
Power contact rating from 60 to 500 Amps
FAQ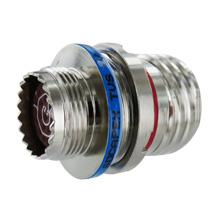 ARE YOU READY TO ORDER?
Get in touch with our sales representatives or our distributors

CONTACT US
Do you have questions?
Unable to find what you need? Looking for custom design ? Or not sure of what you need? Connect with our team of experts to guide you towards the best solution.
38999 - Power description
The 38999-Power connector is designed for high power transmission in harsh environments. Derived from the MIL-DTL-38999 series, Amphenol Socapex 38999 power connectors are equipped with ruggedized power inserts that can handle up to 500A. They are available in various shell types, including MIL-DTL-38999 I (LJT), MIL-DTL-38999 III (TV-CTV), VG96912 (SJT), RNJ and RNJLP, with the 4 x 60 Amps and the 4 x 100 Amps being HE308 qualified (bayonet and rackable versions). These connectors are ideal for use in defense and avionics, as well as harsh industrial environments where high power transmission is required. They can be used for I/O power for boxes, power connectors spread on the field (drums), and electrical power generators. The 38999-Power connector offers excellent durability, with a life cycle of up to 500 cycles. They can withstand temperatures ranging from -65 Cdeg to 175 Cdeg, and keying is achieved by different key/keyway locations. These connectors have different contact ratings, including 60A (4 x 60 Amps), 100A (4 x 100 Amps), 230A (-1 x 250 Amps), and 500A (-1 x 500 Amps), with crimp or PC tail terminations available.