RNJ
38999 Series
RNJ - Reduced Flange
When size and weight are critital for blind mate applications
Key features
Derived from RNJ - HE308 Rack & Panel connector 
8 shell sizes from 11 to 25
Same realignement capabilities than RNJ (3 axis)
For Jam Nut Plugs & Receptacles, with maximum weight / space savings
Several materials et platings available, with RoHS & REACH compliant versions
Applications 
Battlefield Communication C5ISR
Ground Vehicles
Military Avionics
Commercial Air 
Missiles
Space
Technical information
Product benefits :
20% weight savings versus standard RNJ plug
Connection between a rack and a panel without manually coupling/uncoupling the connectors
Uses sames contacts and inserts than 38999 series I & III
Stand-off reduced flange receptacle (double flange) version available
Compatible with many M85049 backshells for 38999 series I connectors
Materials & Platings :
Aluminum : Olive drab Cadmium, Black Zinc Nickel u, Nickel, u plated
Contacts types & terminations :
More than 80 contacts arrangements
Contacts size 23 HD to 4
Signal, Power, High-speed versions (Coax, Twinax, Quadrax, Octomax...), and optical termini
Crimp & PC-Tails (gold & tinned versions)
Environmental Characteristics :
500 mating cycles
65degC to +175degC
From 48 to 500 hours depending on material & plating
IPX7 when mated and fully cabled
Electrical characteristics :
Insulation resistance: @Ambient: 5000 Mohms
Contact rating from 3 to 100 Amps
Product change notifications (PCN)
Published
#PCN
Product
Comments
FAQ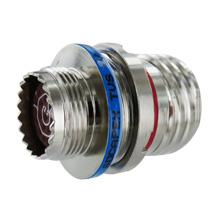 ARE YOU READY TO ORDER?
Get in touch with our sales representatives or our distributors

CONTACT US
Do you have questions?
Unable to find what you need? Looking for custom design ? Or not sure of what you need? Connect with our team of experts to guide you towards the best solution.
RNJ - Reduced Flange description
The Amphenol Socapex RNJ connector with Reduced Flange is a rack and panel connector designed for use in harsh environments. It features a lightweight and compact design, making it ideal for space-saving applications. 
The RNJ connector is derived from the HE308/38999 series I and offers realignment capability on three axes, ensuring easy installation and maintenance. One of the key features of the RNJ connector with Reduced Flange is its reduced flange size. This feature allows for an easier and more efficient installation process, while also reducing the overall weight and size of the connector. The RNJ connector with Reduced Flange is also highly durable, with a rating of 500 cycles. It features moisture resistance and corrosion resistance, with options for olive drab cadmium over nickel plating on an aluminum shell or electroless nickel. It also offers contact protection, preventing bent pins and short circuits during mating. 
The RNJ connector with Reduced Flange is designed for use in a variety of applications, including battlefield communication, ground vehicles, military avionics, and advanced industrial applications. With its compact size, durability, and realignment capability, the RNJ connector with Reduced Flange is an ideal choice for blind mate applications in harsh environments.