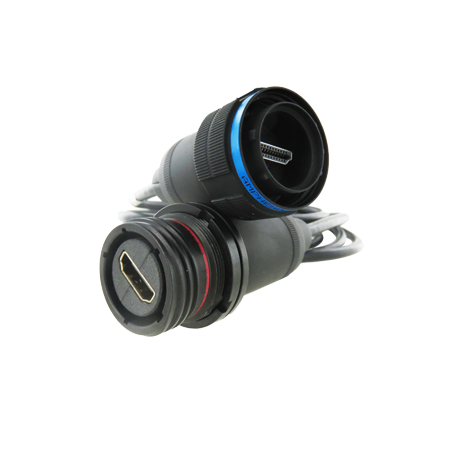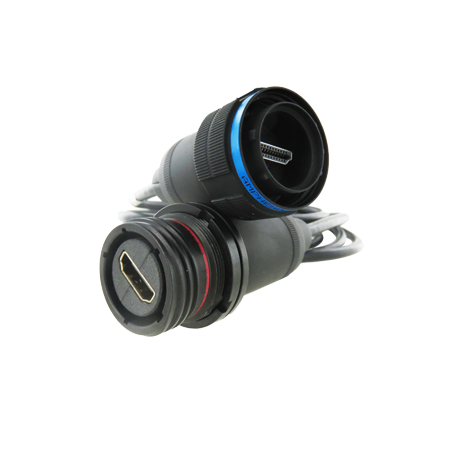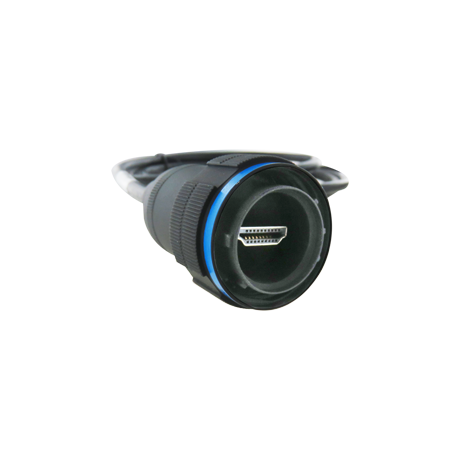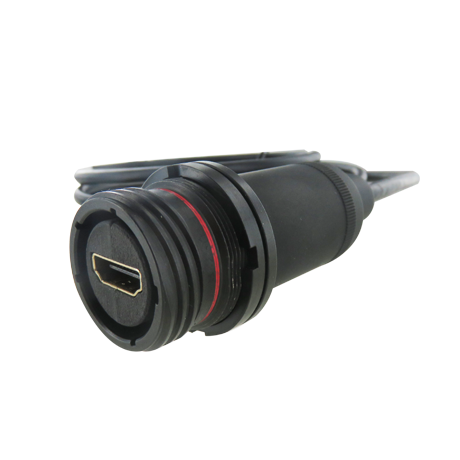 Configure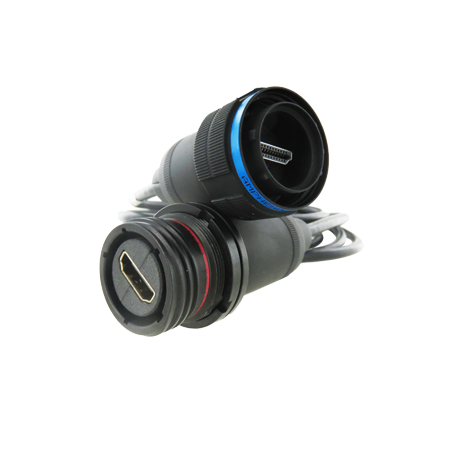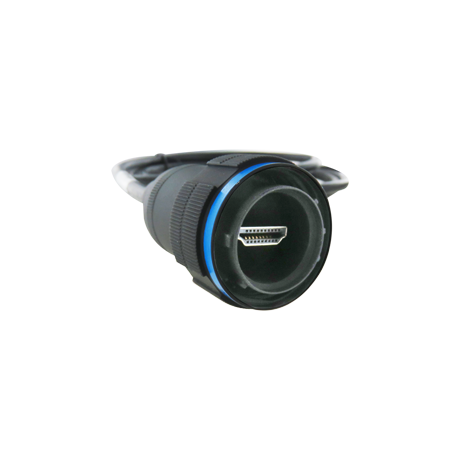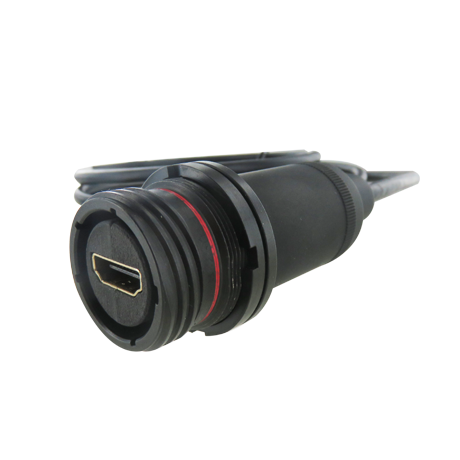 HDMIF
Rugged Ethernet, USB & Display connectors
HDMI FTV
HDMI connection system for harsh environment
Key features
Tri Start Thread coupling mechanism (MIL-DTL-38999 series III type) with anti-decoupling device.
Shell size 17.
No cabling operation in field and no tools required.
Data Transmission:

HDMI 2.0 protocol.
Transmission bandwidth : 18 Gbit/s with 6 Gbit/s per lane.
Can support 4K UHD (3840 * 2160) at 60 Hz.
Applications
Battlefield Communication
Grounded vehicles
Military avionics Industrial
Ask for a quotation
Technical information
Environmental protection
Sealed against fluids and dusts : IP68 mated.
Salt spray :

Aluminium shell : Nickel plating : 48h
Black zinc nickel plating : 500h
Olive drab cadmium plating : 500h

Fire retardant/Low smoke : EN45545 + UL94V0.
Vibrations : 10 - 500 Hz, 10 g, 3 axes : no discontinuity > 10 nano s.
Shocks: IK06 > weight of 250 g drop from 40 cm [15.75 in]. onto connectors (mated pair).
Humidity : 21 days, 43degC, 98% humidity.
Temperature range : -40degC / +85degC.
FAQ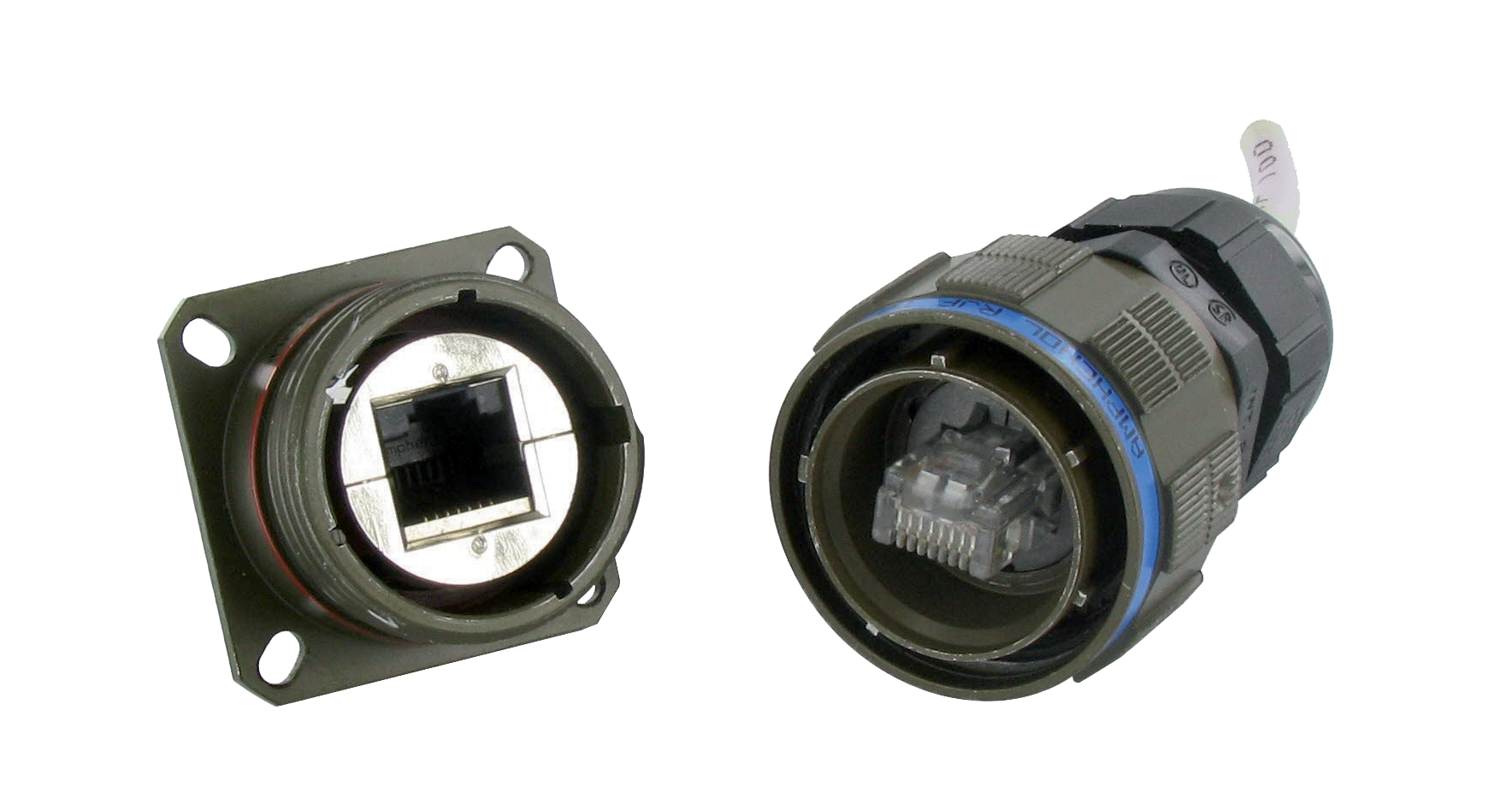 Rugged Ethernet, USB & Display connectors
ARE YOU READY TO ORDER?
Get in touch with our sales representatives or our distributors

CONTACT US
Do you have questions?
Unable to find what you need? Looking for custom design ? Or not sure of what you need? Connect with our team of experts to guide you towards the best solution.
HDMI FTV description
Amphenol Socapex HDMI FTV connector is a robust HDMI connection system designed for use in harsh environments. It features a tri-start thread coupling mechanism (MIL-DTL-38999 series III type) with an anti-decoupling device, ensuring secure and reliable connections even in challenging conditions. This connector is designed to meet the needs of military and industrial applications, including battlefield communication, grounded vehicles, and military avionics. It provides environmental protection and is sealed against fluids and dust with an IP68 rating when mated. It is also designed to withstand salt spray, vibrations, shocks, humidity, and a temperature range of -40degC to +85degC.
The HDMI FTV connector supports the HDMI 2.0 protocol and has a transmission bandwidth of 18 Gbit/s with 6 Gbit/s per lane. It can support 4K UHD (3840 * 2160) at 60 Hz, making it suitable for high-quality video and display applications.
The connector requires no cabling operation in the field and no tools, making it easy to install and maintain. Its fire retardant/low smoke design meets EN45545 + UL94V0 standards. In summary, Amphenol Socapex HDMI FTV connector is a rugged and reliable connector designed for military and industrial applications that require high-quality video and display capabilities. Its robust design and environmental protection features make it suitable for use in harsh conditions, and its ease of installation and maintenance make it a practical choice for a variety of applications.