Rugged Ethernet, USB & Display connectors
USB3F TV
Reinforced USB3.0 connectors for harsh environments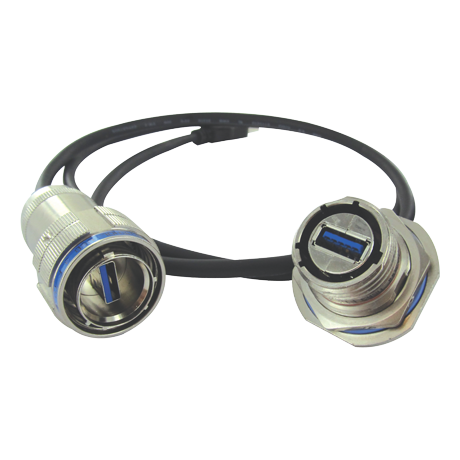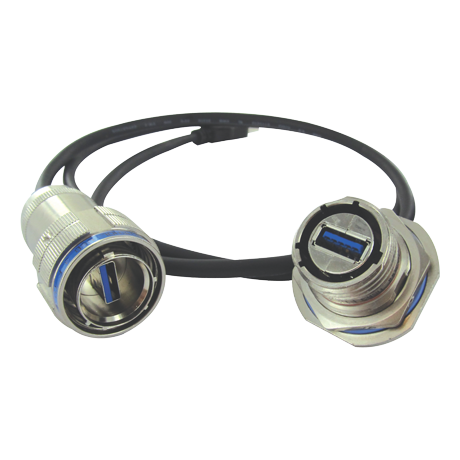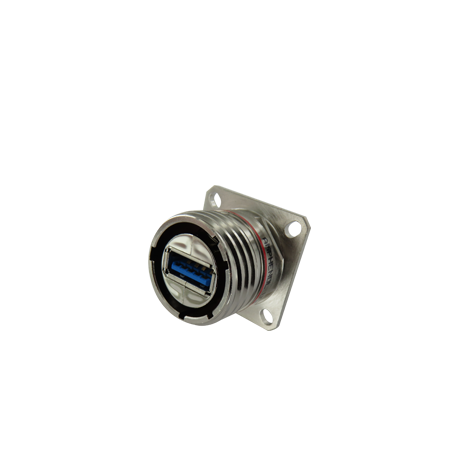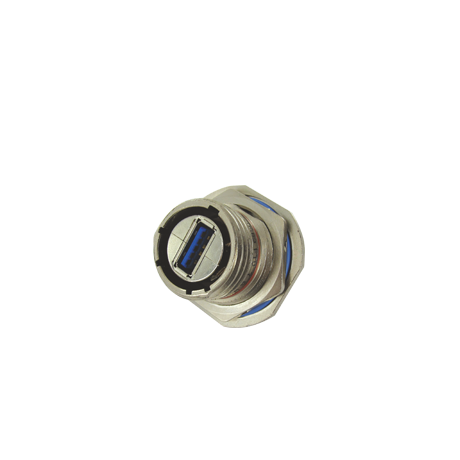 Configure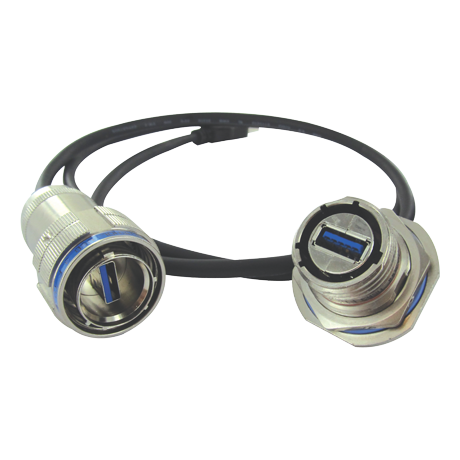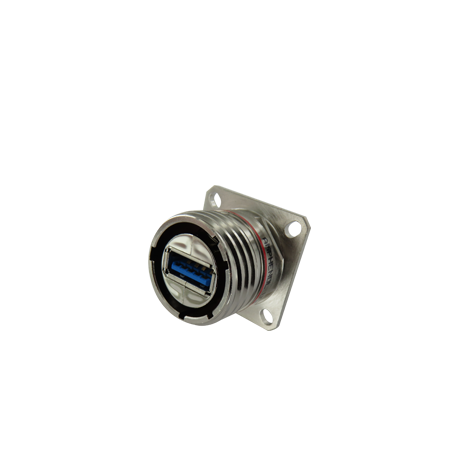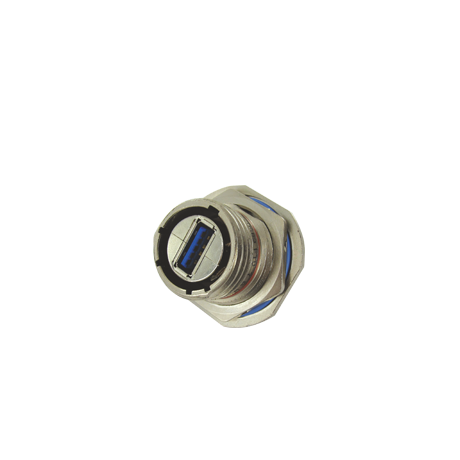 USB3
Rugged Ethernet, USB & Display connectors
USB3F TV
Reinforced USB3.0 connectors for harsh environments
Key features
Based on MIL-DTL-38999 series III
Threaded locking mechanism
Sealed against fluids and dusts (IP68)
Available in USB 3.0
Applications
Battlefield Communication
Grounded vehicles
Military avionics
Industrial
Technical information
Main characteristics :
Sealed against fluids and dusts (IP68) 
Shock, vibration and traction resistant 
No cabling operation in field and no tools required 
Improved EMI protection 
Tri Start Thread coupling mechanism (MIL-DTL-38999 series III type) with anti-decoupling device
Shell size 15 2 mechanical coding / polarization possibilities (receptacle insert rotation) 
USB3F TV plug retention in the receptacle: 100 N in the axis 
Mating cycles: 500 minimum
Environmental protection :
Sealing (when mated): IP68 (temporary immersion) 
Salt spray: 48 h with nickel plating > 500 h with olive drab cadmium 500 h with marine bronze shell
Fire retardant / low smoke: UL94 V0 and NF F 16 101 & 16 102 
Vibrations: 10 - 500 Hz, 10 g, 3 axes: no discontinuity > 1micro s Shocks: IK06: weight of 250 g drop from 40 cm [15.7 5 in] onto connectors (mated pair) 
Humidity: 21 days, 43degC, 98% humidity 
Temperature range: -40degC / + 85degC
Data transmission :
USB specification 3.0
Data rate: up to 5Gb/s for high speed USB
Close
With USB Field, you can insert a standard USB 3.0 cordset into a metallic plug which will protect it from shocks, dust and fluids.
FAQ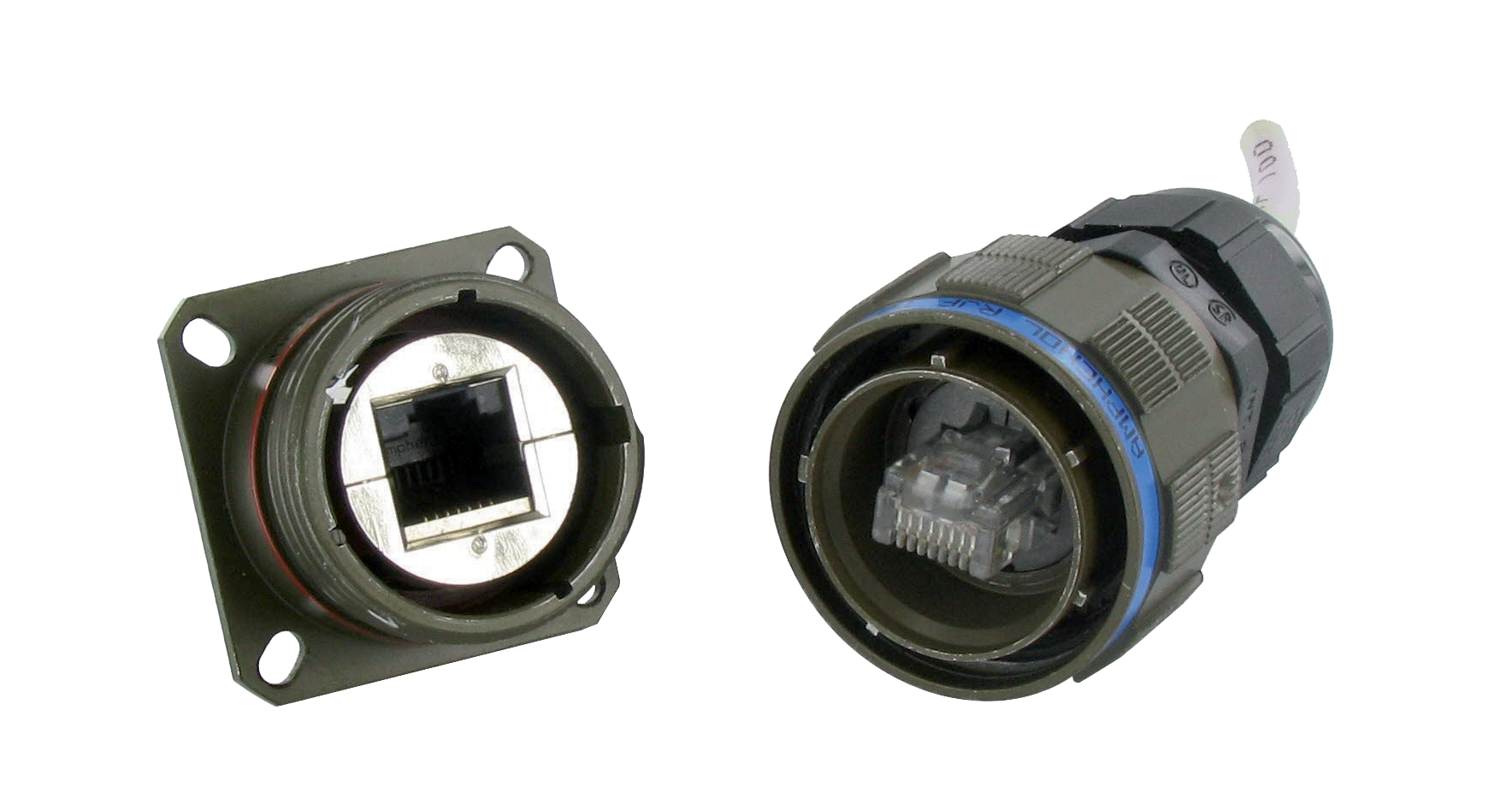 Rugged Ethernet, USB & Display connectors
ARE YOU READY TO ORDER?
Get in touch with our sales representatives or our distributors

CONTACT US
Do you have questions?
Unable to find what you need? Looking for custom design ? Or not sure of what you need? Connect with our team of experts to guide you towards the best solution.
USB3F TV description
The Amphenol Socapex USB3F TV is a reinforced USB 3.0 connector designed to operate in harsh environments. Based on the MIL-DTL-38999 series III standard, this connector features a threaded locking mechanism and is sealed against fluids and dust (IP68). It is ideal for use in military avionics, grounded vehicles, battlefield communication, and industrial applications. 
With its improved EMI protection and tri-start thread coupling mechanism, the USB3F TV offers excellent shock, vibration, and traction resistance. It has two mechanical coding and polarization possibilities and offers a retention force of 100 N in the axis. The connector is also designed to require no tools and no cabling operation in the field. 
In addition to its rugged design, the USB3F TV offers excellent environmental protection. It has a salt spray resistance of up to 500 hours and is fire retardant/low smoke (UL94 V0 and NF F 16 101 & 16 102). It can withstand vibrations of up to 10-500 Hz, 10 g, 3 axes without discontinuity, and has a temperature range of -40degC to +85degC. Overall, the Amphenol Socapex USB3F TV offers a reliable and rugged solution for USB 3.0 connectivity in harsh environments. With its ability to protect standard USB 3.0 cordsets from shocks, dust, and fluids, it is an ideal choice for military, industrial, and other challenging applications.