Key features
Up to 8 meters USB3 Amplifier can be connected with a 3 meters cordset to achieve a maximum lenght of 11 meters.
Mate with our USB3FTVTM series ( MIL-DTL-38999 series III type) with anti-decoupling device – Shell size 15.
Choose your Amplifier lenght thanks to our selection
Applications
C5ISR, Battlefield Communication
Ground vehicles
Naval
Technical information
Improved EMI protection
Sealing (when mated) : IP68 (temporary immersion)
Temperature range : -40°C / + 85°C 
Shock, vibration and traction resistance.  
FAQ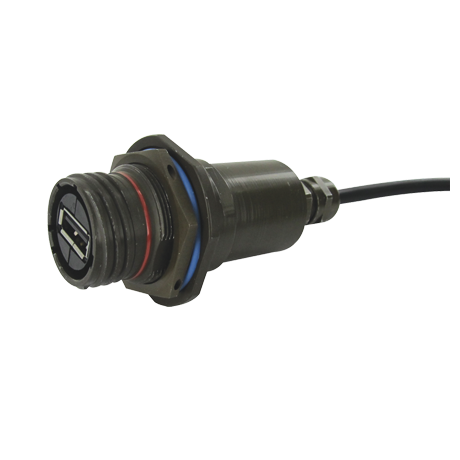 ARE YOU READY TO ORDER?
Get in touch with our sales representatives or our distributors

CONTACT US
Do you have questions?
Unable to find what you need? Looking for custom design ? Or not sure of what you need? Connect with our team of experts to guide you towards the best solution.
USB3 Amplifier description
Introducing the Amphenol Socapex USB3 Amplifier, your ultimate solution for extending USB3 cordsets across extended distances. 
This innovative product boasts a range of features that set it apart:
- Exceptional Reach: Extend your USB3 connections up to 8 meters by pairing the amplifier with a 3-meter cordset, achieving an impressive maximum length of 11 meters.
- Versatile Compatibility: Designed to seamlessly mate with our USB3FTVTM series using MIL-DTL-38999 series III connectors with an anti-decoupling device within a Shell size 15 housing.
- Tailored Length Options: Customize your setup by selecting the amplifier length that suits your specific requirements.

Applications for this USB3 amplifier are wide-ranging, spanning critical sectors like C5ISR, battlefield communications, ground vehicles, and naval environments. 
Moreover, the technical specifications are noteworthy, featuring improved EMI protection, IP68 sealing when mated (capable of temporary immersion), and a wide operating temperature range from -40°C to +85°C. This amplifier is engineered to endure shocks, vibrations, and traction, ensuring reliable performance even in demanding conditions. Trust Amphenol Socapex for your long-distance USB3 extension needs.