Key features
Managed military Ethernet switch with Power Over Ethernet
8 Gigabit ports
IEEE 802.3af Type 1, 802.3at Type 2, 802.3bt Type 3
Up to 60W per ports
MIL-STD-461E, EMI
MIL-STD-810F/GM, Environment
MIL-STD-1275B, Power protection
MIL-STD-704A, Power protection
Applications
Battlefield communication c4IsR
Rugged networks
WiFi access points
Combat vehicles
Avionic & shipboard system
Technical information
Technical information is available in our User's Manual (see Documentation tab)
FAQ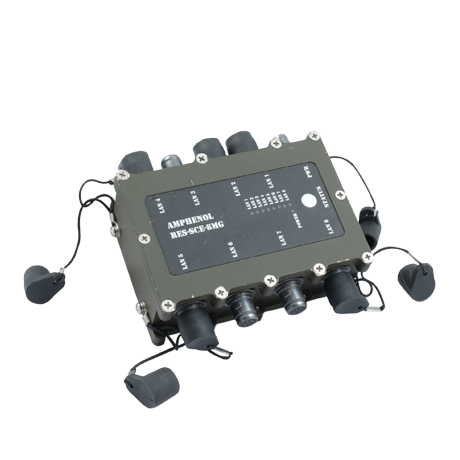 Ethernet Switch & Media Converter
Ethernet Switch
ARE YOU READY TO ORDER?
Get in touch with our sales representatives or our distributors

CONTACT US
Do you have questions?
Unable to find what you need? Looking for custom design ? Or not sure of what you need? Connect with our team of experts to guide you towards the best solution.
Ethernet Military Switch RESMLAC-8MG-CAPS-POE description
The Amphenol Socapex MIL-STD-461 Ethernet Military Switch RESMLAC-8MG-CAPS-POE is a fully MIL-STD compliant managed military Ethernet switch that provides Power over Ethernet. With eight Gigabit ports and IEEE 802.3af Type 1, 802.3at Type 2, and 802.3bt Type 3 compliance, the switch can deliver up to 60W per port. It meets MIL-STD-461E for EMI, MIL-STD-810F/GM for environmental factors, MIL-STD-1275B and MIL-STD-704A for power protection, making it suitable for a variety of harsh environments.

The RESMLAC-8MG-CAPS-POE switch is ideal for use in battlefield communication c4IsR, rugged networks, WiFi access points, combat vehicles, and avionic and shipboard systems. The switch can help optimize network performance and enhance communication in these applications. With its MIL-STD compliant features, the switch can withstand extreme temperatures, shock, and vibration, making it reliable and durable for use in harsh environments.