Key features
Managed military Ethernet switch with RJFTV connectors
8 Gigabit ports
MIL-STD-461E, EMI
MIL-STD-810F/GM, Environment
MIL-STD-1275B, Power protection
MIL-STD-704A, Power protection
MIL-F-18870-E, Temperature shock test
MIL-STD-167-1A Low frequencies Vibrations
MIL-S-901D Lightweight shocks
Applications
Data acquisition & transmission
Battlefield communication c4IsR
Rugged networks
Combat vehicles
Avionic & shipboard system
 
Technical information
Technical information is available in our User's Manual (see Documentation tab)
FAQ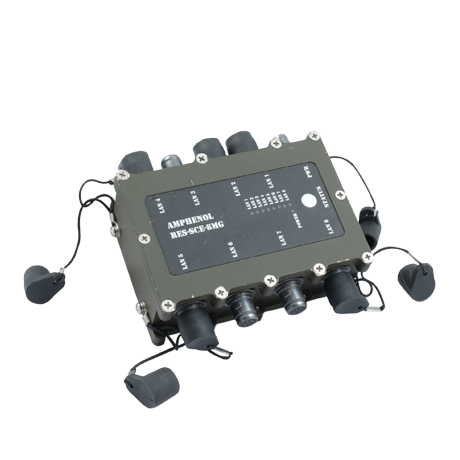 Ethernet Switch & Media Converter
Ethernet Switch
ARE YOU READY TO ORDER?
Get in touch with our sales representatives or our distributors

CONTACT US
Do you have questions?
Unable to find what you need? Looking for custom design ? Or not sure of what you need? Connect with our team of experts to guide you towards the best solution.
Ethernet Military Switch RJSMLAC-8MG-CAPS description
The Amphenol Socapex MIL-STD-461 Military Ethernet Switch, also known as RJSMLAC-8MG-CAPS, is a highly reliable and robust managed military Ethernet switch designed for use in harsh and demanding environments. This Ethernet switch is equipped with RJFTV connectors and features 8 Gigabit ports, making it suitable for various data acquisition and transmission applications, such as rugged networks, combat vehicles, and avionic and shipboard systems.
One of the most notable features of this military Ethernet switch is that it is fully compliant with several MIL-STD norms, including MIL-STD-461E for EMI, MIL-STD-810F/GM for environmental testing, MIL-STD-1275B for power protection, and MIL-STD-704A for power protection. Additionally, the switch is also compliant with MIL-F-18870-E for temperature shock testing, MIL-STD-167-1A for low-frequency vibrations, and MIL-S-901D for lightweight shocks. This means that the switch can operate reliably in extreme conditions, including high temperatures, low frequencies vibrations, and lightweight shocks. The MIL-STD-461 norm is an essential requirement for military equipment, as it ensures that the equipment can operate reliably in environments where there may be electromagnetic interference. Compliance with this norm is particularly important for military communication systems, where reliable and secure data transmission is critical.
Furthermore, the Amphenol Socapex Military Ethernet Switch is an ideal solution for battlefield communication c4IsR, where a reliable and secure network is essential. With its robust construction and compliance with several MIL-STD norms, this switch can provide the required level of data security, even in harsh environments.
Overall, the Amphenol Socapex Military Ethernet Switch is an excellent choice for any organization that requires a rugged and reliable network solution. Its compliance with several MIL-STD norms, coupled with its advanced features, make it a highly desirable solution for military and industrial applications where reliable data transmission is critical.