Key features
100% scoop proof design
9 shell sizes from 09 to 25 
More than 60 contacts arrangements, from 1 to 128 contacts
Ruggedized product with an high resistance to shocks & vibrations
Several materials et platings available, with RoHS & REACH compliant versions

Applications 
Commercial Air 
Military Avionics
Ground Vehicles
Battlefield Communication C5ISR
Technical information
Product benefits
Similar to MIL-DTL-38999 series III with additional requirements
Higher lightning strikes requirements (up to 15kA)
Higher fluid resistance
Materials & Platings
Aluminium: Olive Drab Cadmium, Nickel 
Composite: Olive drab cadmium, Nickel 
Stainless steel : Passivated 
Contacts types & terminations
More than 60 contact arrangements
Contacts size 23 to 8
Signal, power, twinax, quadrax (EN3155 qualified contacts available)
Crimp
Environmental Characteristics
500 mating cycles
-65degC to +175degC or 200degC depending on material & plating
48 to 500 hours for Metal versions & 2000 hours for composite
Electrical characteristics
Shell to shell conductivity from 1 to 10 mO depending on materials & platings
Shell to shell bottoming, grounding fingers on the plug shell
Insulation resistance @Ambient : 5.103 mO
Contacts rating from 5 to 60 Amps
Product change notifications (PCN)
Published
#PCN
Product
Comments
FAQ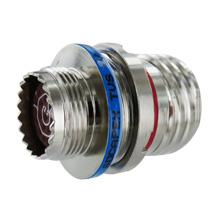 ARE YOU READY TO ORDER?
Get in touch with our sales representatives or our distributors

CONTACT US
Do you have questions?
Unable to find what you need? Looking for custom design ? Or not sure of what you need? Connect with our team of experts to guide you towards the best solution.
EN3645 description
The EN3645 connector from Amphenol Socapex is a high-performance solution that is similar to the MIL-DTL-38999 series III connector but offers additional requirements to meet the most demanding applications. It is designed to provide exceptional performance in the harshest environments, including commercial and military aerospace. One of the key features of the EN3645 connector is its higher resistance to fluid. This design helps to protect the connector from exposure to harsh fluids and chemicals, making it an ideal choice for use in aerospace applications. Additionally, the EN3645 connector has higher lightning strikes requirements of up to 15kA, providing enhanced protection against power surges and other electrical disturbances. The EN3645 connector is well-suited for use in a variety of commercial and military aerospace applications. Its rugged design and ability to withstand extreme conditions make it an excellent choice for use in aircraft, spacecraft, and other aerospace vehicles. It is also an excellent option for use in applications where high reliability and performance are critical. Overall, the EN3645 connector from Amphenol Socapex is a high-quality solution that offers exceptional performance, reliability, and durability in even the most challenging environments. Its ability to withstand fluid exposure and lightning strikes, combined with its rugged design, make it an excellent choice for a wide range of aerospace applications.