Key features
Low profile design lightweight & space saving
9 shell sizes from 08 to 24
More than 60 contacts arrangements, from 1 to 128 contacts
Several materials et platings available, with RoHS & REACH compliant versions
Applications
Military Avionics
Commercial Avionics
Military vehicles
C5ISR
Technical information
Product benefits :
Several receptacles style : Square flange, Jam nut, In-line… 
Quick coupling, fully mated in a 1/4 turn of the coupling nut
Materials & Platings :
Aluminum : Olive Drab Cadmium, Nickel, Black Zinc Nickel 
RoHS
Contacts types & terminations :
More than 50 arrangements of contacts
Contacts size 22D to 12
Signal and power 
Crimp, PC tail
Environmental Characteristics :
500 mating cycle
-65°C  to 175°C or 200°C  depending on material & plating
From 48 to 500 hours depending on material & plating
 
Electrical characteristics :
Insulation resistance @Ambient : 105 mΩ
Product change notifications (PCN)
Published
#PCN
Product
Comments
FAQ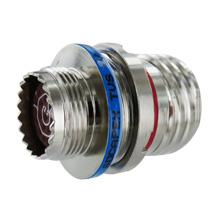 ARE YOU READY TO ORDER?
Get in touch with our sales representatives or our distributors

CONTACT US
Do you have questions?
Unable to find what you need? Looking for custom design ? Or not sure of what you need? Connect with our team of experts to guide you towards the best solution.
JT - 38999 Series II description
The JT connectors from Amphenol Socapex are designed in accordance with the MIL-DTL-38999 series II standard, making them ideal for use in the military and aerospace industry. These connectors offer a range of features that make them a reliable and durable solution for various applications, including battlefield communication, grounded vehicles, and military avionics. 
One of the key features of the JT connectors is their large variety of contact arrangements and shell types, which allows for customization to meet specific requirements of various applications. Additionally, the connectors provide maximum weight/space savings, making them suitable for use in applications where space is limited. This feature is particularly important in the aerospace industry, where every ounce counts. The JT connectors also provide 100% contact protection, which ensures that the contacts are not damaged during use, providing additional reliability and durability. They are available in both metallic and composite versions, providing options for different environmental conditions and weight requirements.
The JT connectors are available in three finish options: olive drab cadmium plating, electroless nickel plating, and black zinc nickel plating. These finishes offer corrosion resistance and protect the connectors from harsh environmental conditions.
The JT connectors are available in nine shell sizes, ranging from 08 to 24, which provides flexibility in their use across different applications. The connectors offer more than 50 arrangements of contacts, with size 12, 16, 20, and 22D contacts available. Additionally, crimp, PCB, signal, and power contacts are available, providing customization options for various applications. While pin contacts are not scoop-proof protected, the JT connectors offer improved interfacial seal that ensures sealing around each contact, providing additional protection against environmental factors. Additionally, the connectors offer optional grounding fingers on the plug shell, providing EMI/RFI protection.
Finally, the JT connectors are very low profile and lightweight, making them ideal for applications where space and weight are critical factors.