RNJ
38999 Series
RNJ - HE308 - Rack & Panel
Rack & Panel Blind Mate connector for harsh environments
Key features
Rack and panel range derived from HE308 / 38999 series I
8 shell sizes from 11 to 25
Realignment capabilities & floatability on 3 axis
Quick and easy connection, 100% scoop proof design
Several materials et platings available, with RoHS & REACH compliant versions
Applications
Battlefield Communication C5ISR
Ground Vehicles
Military Avionics
Commercial Air 
Missiles
Space
 
Technical information
Product benefits :
Several receptacles and plugs style : Square flange, Jam nut... 
Connection between a rack and a panel without manually coupling/uncoupling the connectors
Uses sames contacts and inserts than 38999 series I & III
Many versions available : Stand-off (double flange), reduced flange...
Compatible with many M85049 backshells for 38999 series I connectors

Materials & Platings :
Aluminum : Olive drab Cadmium, Black Zinc Nickel, Nickel, plated
Stainless Steel : Passivated
ROHS
Contacts types & terminations :
More than 80 contacts arrangements
Contacts size 23 HD to 4/0
Signal, Power, High-speed versions (Coax, Twinax, Quadrax, Octomax...), and optical termini
Crimp & PC-Tails (gold & tinned versions)
Environmental Characteristics :
500 mating cycles
65degC to +175degC
From 48 to 500 hours depending on material & plating
IPX7 when mated and fully cabled
Electrical characteristics :
Insulation resistance @Ambient : 105 Mohms
Contact rating from 3 to 500 Amps
FAQ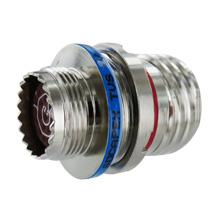 ARE YOU READY TO ORDER?
Get in touch with our sales representatives or our distributors

CONTACT US
Do you have questions?
Unable to find what you need? Looking for custom design ? Or not sure of what you need? Connect with our team of experts to guide you towards the best solution.
RNJ - HE308 - Rack & Panel description
The Amphenol Socapex RNJ HE308 Rack & Panel connector is designed for use in harsh environments where reliable and robust connectivity is essential. These connectors are lightweight and derived from the HE308/38999 series I, making them an ideal choice for applications where space and weight are at a premium. They are 100% scoop-proof, preventing bent pins and short circuits during mating, and offer realignment capability on three axes for blind mate applications. The RNJ HE308 connectors offer excellent EMI shielding, with shells that are grounded before contact mating. They also provide high moisture resistance, thanks to the interfacial seal, main joint souffler, and rear gasket on the plug that are designed to seal out moisture between connector halves. The connectors are also highly corrosion-resistant, with options for olive drab cadmium over nickel plating on aluminum shells that can withstand 500 hours of salt spray exposure or electroless nickel. A free cadmium version is also available. The RNJ HE308 connectors are available in eight shell sizes from 11 to 25 and can accommodate between 1 and 128 contacts in accordance with Mil-C-39029 standards. They are suitable for use with crimp contacts sizes 22D, 20, 16, 12, 8, 4, and 00, PCB contacts sizes 22D and 20, and wire-wrap contacts sizes 22D and 20. They also accept optical termini (POM series) in accordance with Mil-T-29504 standards. These connectors are an excellent choice for use in battlefield communication, ground vehicles, military avionics, and advanced industrial applications.