Key features
100% scoop-proof design 
38999-Qualified Insulator and EMI Spring
Quick Coupling Double Start Thread
25% Lighter, 15% Smaller compared to 2M805 & 50% Lighter, 20% Smaller compared D38999 Series III
Several materials et platings available, with RoHS & REACH compliant versions
Applications
Military Avionics
Commercial Avionics
Military vehicles
C5ISR
Technical information
500 mating cycles
-65°C to 175°C or 200°C depending on material & plating
From 48 to 1000 hours depending on material & plating
Triple Wire Seal
Shell to shell conductivity 5 mΩ max
100 Mhz to 10Ghz - minimum attenuation of 50dB
Insulation resistance @Ambient : 105 mΩ
AS39029-Qualified Gold-Plated Contacts
FAQ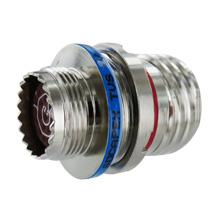 ARE YOU READY TO ORDER?
Get in touch with our sales representatives or our distributors

CONTACT US
Do you have questions?
Unable to find what you need? Looking for custom design ? Or not sure of what you need? Connect with our team of experts to guide you towards the best solution.
Series Five description
Introduced in the 1960s, the MIL-DTL-38999 series of connectors emerged as a revolutionary military solution, distinguished by its compact contacts and enhanced insert patterns. This innovation surpassed the already well-received MIL-DTL-5015 connectors. Over the ensuing decades, D38999 connectors have not only gained widespread recognition but have also established themselves as the definitive standard in Mil-Spec connectors, particularly in the demanding realms of military and aerospace applications.
Throughout this remarkable journey, the D38999 connectors have continually evolved, giving rise to novel shell styles, innovative coupling methods, diversified derivatives, and expanded capabilities. Remarkably, they have managed to maintain their enduring popularity.
Amphenol, a leader in connector technology, has now introduced the Series Five connector, representing the next evolutionary leap in this illustrious lineage. This cutting-edge connector seamlessly incorporates all the functionalities of the traditional 38999 style connector, all while being lighter, smaller, and more compact. These attributes make it ideally suited to meet the ever-changing demands of the aerospace industry. Embrace the future with the Series Five connector, setting new standards of excellence in connector technology.