PT
PT/451 - 26482 Series I
PT/451-26482 Series I
MIL-DTL-26482 Series I cylindrical connectors
Key features
Crimp, solder, & PCB contact versions
Wide range of backshells and inserts arrangements
Available with plastic self closing cap option
Applications
Battlefield Communication
Grounded vehicles
Military avionics
Industrial
 
Technical information
Benefits :
Many versions available: watertight (IP66/67), hermetic, shielded, etc.
Resistant to many fluids
Resistant to shocks and vibrations
Operational from –55° to +125°CA large range of connectors
9 shell sizes available
35 insert arrangements and up to 61 contacts
Types: solder, crimp or PCB contact
Shell finishes: electroless nickel, bright or olive drab cadmium plating, black anodised
Thermocouple contacts as standard
 
Product change notifications (PCN)
Published
#PCN
Product
Comments
FAQ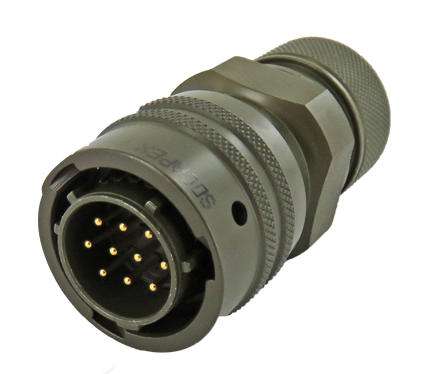 ARE YOU READY TO ORDER?
Get in touch with our sales representatives or our distributors

CONTACT US
Do you have questions?
Unable to find what you need? Looking for custom design ? Or not sure of what you need? Connect with our team of experts to guide you towards the best solution.
PT/451-26482 Series I description
The PT/451 Series connectors are a type of cylindrical MIL-DTL-26482 Series I connectors that offer a wide range of backshell and insert arrangements. With nine shell sizes available and up to 61 contacts, they are ideal for use in aeronautics, military, and industrial applications where high-quality connectors are required. The PT/451 connectors are available in crimp, solder, and PCB contact versions, and thermocouple contacts are standard.
The PT/451 connectors are resistant to many fluids and can withstand shocks and vibrations. They are also operational from -55°C to +125°C, ensuring reliable performance even in extreme temperatures. With many versions available, such as watertight (IP66/67), hermetic, and shielded, these connectors provide a high level of protection for your equipment.
In addition to their durability and versatility, the PT/451 connectors are also compliant with HE301, VG95328, and MIL-DTL-26482 Series I standards. They are suitable for use in battlefield communication, grounded vehicles, military avionics, and industrial applications. Additionally, the plastic self-closing cap option is available to protect the connectors from damage when not in use.